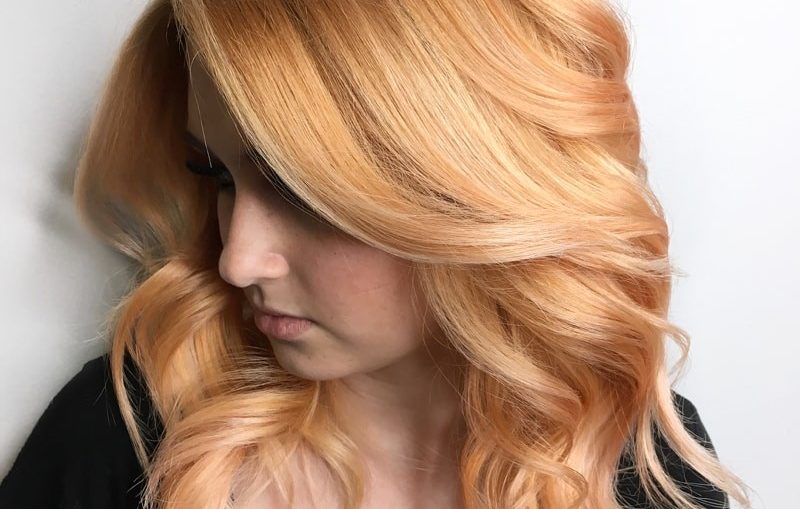 Blonde is a shade for all. No matter what your skin tone is, you can always go for blonde. This hair shade is for the girls who are too confused regarding the hair colours. They don't know their skin tone, undertone, which hair colour will look good on them, etc. But there is a blonde shade for every one of us. The only trick is to know our skin tone and undertone, i.e., whether it is warm, cool, or neutral.
Never forget this one golden rule – choose warm blonde shades if your skin tone is cool and cool blonde hair shades if your undertone is warm. People with neutral undertones can choose any shade of all. Everything suits them.
People with cool skin tones can pull off the shades like golden blonde, honey blonde, caramel, etc. Similarly, people with warm skin tones can try cool blonde shades like champagne blonde, ash blonde, strawberry blonde, etc. You can try any look of blonde by trying natural hair dye. Godrej Expert Rich Crème is infused with natural ingredients that condition your hair and boost hair growth. The dye is available in five beautiful shades for you to try. So, ditch the chemical-based dyes and pamper your hair with Godrej. Now that you know why you must try blonde hair shades, let us have a look at some of the best shades of blonde to try this season.
Best Blonde Hair Colours to try
Good things are best enjoyed in small doses. And that is how women have worked their way with blonde hair colours. No one wishes to go for global hair colour when you have balayage, highlights, ombre, etc., hair colouring techniques. Every skin tone has a blonde hair shade that suits it. Below is the list of shades for every skin tone to try this year. Have a look!
Caramel Blonde Hair Shade
Caramel blonde is a warm blonde shade that looks absolutely stunning with cool skin tones. It is a great colour pick to bring some warmth to your cool skin tone. Women also term it as a 'safe' blonde hair colour. This is one of the best hair shades that suit Indian skin tones. Being a 'safe' colour, caramel blonde hair colour is a common sight every now and then. Women go for this shade not only to add colour but also to add depth to the locks. Go for waves with this hair shade to make the colour more prominent and visible.
Ash Blonde Hair Shade
Ash-blonde is a hair colour for warm skin tones. People having warm skin tones and golden undertones can try out this amazingly cool shade to strike a balance. If you decide to colour your hair in ash blonde, we would suggest you to go for the middle shade. Do not go too light or too dark because it will make your skin tone look washed out. Go for a balanced ash blonde shade to give your hair a dimensional look. This colour looks best with long hair. So, if you have a warm skin tone and long hair, this is the colour you must go for!
Honey Blonde Hair Shade
Another popular hair colour that suits a cool skin tone! Honey blonde is a warm hair colour that brings a warm glow to the skin. It imparts a natural radiance and looks great on cool skin tones. With this hair shade, you can go for highlights or balayage hair colouring techniques. Lately, this hair colour has become a trend and women from all over are getting to this hair shade to enhance their tresses. So, what are you waiting for? Get your hands on this hair shade and give your hair a beautiful, sun-kissed look!
Light Brown Hair Shade
It is a bronde shade. It is a neutral blonde shade that suits every skin tone. This hair shade is a mix of brown and blonde that enhances the look of your locks and complements your skin tone and eye colour. With this hair shade, you can go with the ombre hair colouring technique and style your hair in beach waves. Try out this amazing hair shade and rock every event, party, and even a regular day!
Golden Blonde Hair Shade
Golden blonde hair colour is a warm blonde shade for a cool skin tone. After all, who doesn't love a classic dark brunette with golden highlights? Golden blonde looks great with cool skin tones. When this hair shade is blended with caramel blonde highlights and copper red highlights, it makes your hair look gorgeous and alluring. This hair shade is best for winters. Style out your hair in curls and make the coloured locks look more evident and beautiful. Try out this hair shade now!
Chestnut Blonde Hair Shade
If you look up to Beyonce, then this hair shade is for you. Chestnut blonde is a warm hair shade that suits cool skin tones. This shade is a blend of chestnut brown and golden blonde. This shade looks best with Indian skin tones. It can be blended with other blonde hairstyles to add some depth to flat hair. Your dull and tired hair will get a breath of life and colour with this hair shade. Give your hair a stunning look every day with this amazing hair colour. Try it out now!
Butterscotch Blonde Hair Shade
If you have naturally black or brown hair, then this hair shade is for you. Butterscotch blonde hair shade looks great in a highlighted form. It suits best with chocolate brown hair. You can go with this hair shade starting from dark roots and eventually going blonde at the ends. This is a stunning shade to try if you have a cool skin tone. Give your hair a creamy, rich feel with this beautiful hair shade.
Dusty Rose Blonde Hair Shade
Do you love pink? This shade is great for women who love pink and who have a warm skin tone. This is a delicate blonde hair shade that gives your hair a light rose pink glow. Well, it's pretty versatile as well. With this hair shade, you can go for balayage or highlighting hair colouring techniques. Blend this shade with an ash blonde colour to give your hair an edgy and chic look. Try out this stunning delicate shade now and give your hair a rosy touch!
Strawberry Blonde Hair Shade
There are some particular shades that suit Indian women. And strawberry blonde is one of them! It is a cool shade for a warm skin tone. The light shade of blonde is infused with strawberry to give your hair a gorgeous look. Couple this shade with dusty rose blonde balayage to ace the look.
So, these are some of the best hair shades to try this year. Blonde is a versatile shade that suits every woman. In terms of hair colouring, we must always go for natural hair dyes. Godrej Expert Rich Crème is infused with Amla, Reetha, Vitamin E, etc that nourishes your hair and gives them a stunning look. Thus, breathe life into your hair and fix all your hair issues with this natural try. Try out the shades mentioned above and tell us which shade you loved the most!